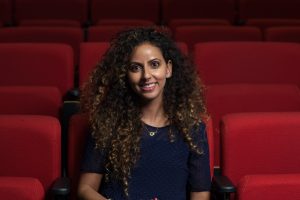 Rooj Alwazir is a visual artist whose work deals with memory, identity and race. She is also a producer at SupportYemen Media, a cooperative production house she started with friends to tell socially driven stories in Yemen.
Alongside her art, Rooj sometimes writes. You can find some of her articles in The National, Rolling Stone and Al Jazeera.
Rooj is currently based in New York. She is a vegan foodie, a coffee snob and always up for talking about queer and brown people things, see more at
www.roojalwazir.com/
www.supportyemen.org
Twitter: @rooj129
In 2015, I participated in Grimme Institute's Visual Storytelling workshop, producing A COFFEE SNOB, a short film that later inspired me on a year plus journey directing a feature length documentary, Kahwa (2018).
In 2017, Grimme Institute hosted another workshop and this time I got to experiment with a 360 camera. Addressing the theme "Identity and diversity", I explore how my identity as a Yemeni American Muslim.. a brown woman, process my racial identity.
My thinking process began something like this.. Diversity is often defined through a mixture of identities. How we understand identity is ultimately defined through our experiences in space. Our identities are thus intertwined with a sense of place and home. This led me to the making of Which Way Home,  a reconstruction of identity through landscape to suggest how race and the politics of borders and public space can disrupt the traditional image of a home.
Which Way Home
by Rooj Alwazir
Um das Video anzuzeigen, ist ein Verbindungsaufbau zu YouTube erforderlich. Durch YouTube werden bei diesem Vorgang auch Cookies gesetzt. Details entnehmen Sie bitte der YouTube-Datenschutzerklärung.
Focusing on two particular areas in New York, Union Square and the East Village, the film brings together footage of an empty lot that once housed over 50 low income families and a historic public square.